Two Major Leaps Towards a Climate Resilient and Emission Free Antigua and Barbuda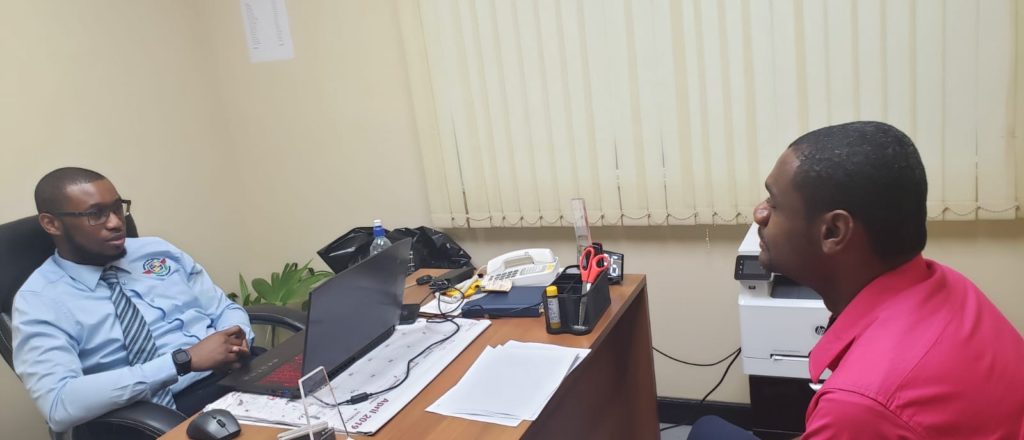 Author: Julian Maynard
Country: Antigua & Barbuda
Having completed my Master of Science Degree in Renewable Energy Management in 2016, it was my great desire to contribute towards the research and development of alternative forms of energy throughout the Caribbean region. Therefore, I applied to the Caribbean Centre for Renewable Energy and Energy Efficiency (CCREEE) for the 2020 internship programme as I saw it as a pathway to fulfilling this desire. My application was successful. A range of emotions particularly joy and happiness, overcame me as I knew this opportunity would have allowed me to gain valuable experiences, such as interacting with CARICOM nationals who work in developing the energy sector. Also, I looked forward to seeing and experiencing the different roles that stakeholders play in certain companies and to observe working life in this field from different perspectives.
However, the eight-week internship programme proved to be more challenging than I expected. These challenges were also compounded by the current health crisis the world is facing, with countries adopting COVID-19 restrictions and measures. Interactions with persons were mainly through virtual means and very little face to face interactions were possible. This was one of the negatives of conducting the programme at this time as the opportunity for networking and engaging with stakeholders in the energy sector would not be fully utilized. However, I leaped on and was still able to gain great insight on the sector and developments from those I interacted with.
I came across many developments occurring in Antigua and Barbuda as it relates to sustainable energy. However, two really captured my attention. The first being the tremendous work of the Department of Environment in securing 32.7 million US dollars in grant funding from the Green Climate Fund. These funds will be distributed over a six-year period and used in three phases. One phase involves creating / designing climate resilient government buildings which will incorporate the use of renewable energy and energy efficient technologies. Another phase will include the training of persons in renewable energy insulations and various renewable energy technology. The utilization of the Green Climate Fund will aid in a climate resilient country.
Another significant development in Antigua and Barbuda's leap is in terms of electric mobility and the transformation of the transportation sector. A technical feasibility and scoping study on electric mobility was conducted on the island. The Electric Vehicle Pilot Project was also launched in 2017 with two school buses being donated to the island. These buses were recently handed over to ministry officials and will be integrated into the system at the start of school term in September 2020. Valuable data will be gathered and more persons encouraged to drive clean by converting from vehicles with internal combustions engines to electric vehicles.
The experience, though challenging, was definitely an enjoyable one. The most challenging aspect was encouraging persons to cooperate in the data sharing process, as some were very reluctant. I resorted to reinforcing the objectives of the internship programme and the benefits all nations stood to gain from reliable data collection in the energy sector. Having seen the many gaps in the clean energy sector, opportunities certainly do exist for young professionals such as myself to contribute our knowledge in helping the region leap towards a greener future.
SHARE: