Me, Biogas and The CCREEE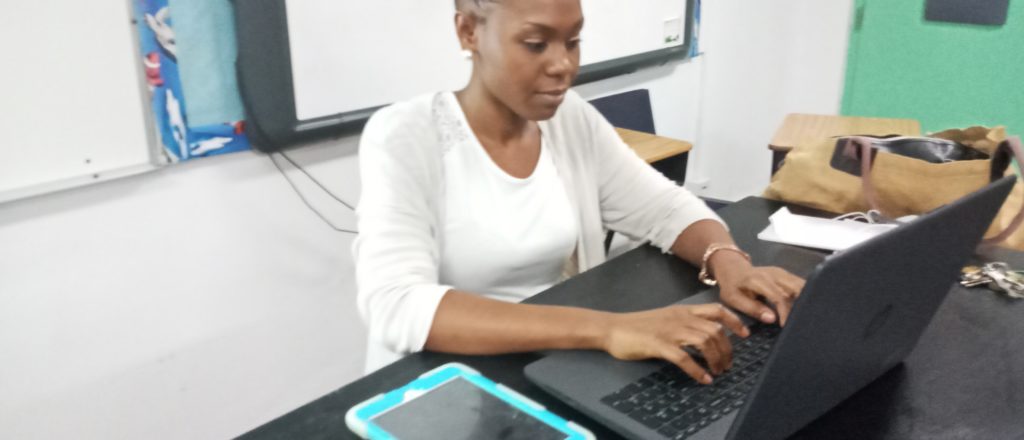 Author: Garneisha Pinder
Country: The Bahamas
This is all that I know. Opportunities like interning with The Caribbean Centre for Renewable Energy and Energy Efficiency (CCREEE) are what I've been exposed to for most of my life. Let me explain, I've studied marine science, was in maritime cadets and, I've volunteered and interned with conservation organizations all while in high school. After graduating, I completed a gap-year programme called the Bahamas Environmental Stewards Scholars (BESS) where I interned with a conservation organization and studied at The Island School. The Island School teaches students about renewable energy, conservation and sustainability. While there I conducted research on the feasibility of bio-diesel production in The Bahamas.
Furthermore, while at the College of The Bahamas, I studied biology with a concentration in environmental science, and was offered an opportunity of a lifetime. I was chosen to represent The Bahamas for a training course on biogas technology in Chengdu, People's Republic of China for 2 months. It was amazing!
There, I was immersed in the theoretical and practical production of biogas on a rural and large scale. It was wonderful. While finishing my degree, I was a zero-waste intern with an intent to help my college build an anaerobic digester. This is all that I know. Opportunities like interning with CCREEE is what I've been exposed to for most of my life. CCREEE adds more substantial benefits.
Currently, I'm back in school seeking to earn my teaching certificate with an intent to strategically and effectively educate my community on sustainability, conservation and the applicability of renewable energy in The Bahamas.
While checking my university emails, I noticed the opportunity and thought that it was perfect. Interning with CCREEE would allow me to be in the presence of regional leaders in the renewable energy sector and through our interactions I would learn what they know. It's great networking. Moreover, I live in The Bahamas. We're 95% water, unlimited sunshine and have massive stored waste energy in our landfills. We have the potential to be a leader in renewable energy exportation. Once, I read where a leading researcher said that we can make over 600 million dollars in the exportation of energy. Why are we not aggressively looking into this sector? Working with CCREEE will allow me to expose more Bahamians to the applicability of renewable energy in The Bahamas.
I was thrilled. When I received the call that I was selected as the CCREEE intern for The Bahamas. The excitement came from understanding the opportunity presented before me. I have a chance to learn about where my country and the region stands as it relates to the implementation and regulation of renewable energy and energy efficiency. I'm grateful. I have a chance to change the conversation and application of renewable energy in The Bahamas. My interest is waste to energy, using biogas technology. Recently, CCREEE was a part of the ITC- CARDI Alliances for Action Webinar and I enjoyed the conversation of converting the coconut husk into bio-methane using an anaerobic biogas digester.
My hopes are that The Bahamas can transition to 100% renewability to by 2060. I would like for us to aggressively exploit waste to energy. The Bahamas generates the most waste per capita in the region. Why are we not trying to curve this, reducing it… something? I envision The Bahamas as a leader in the exportation of energy within the region. As it relates to our region, I would like for us to build bridges to the import and export of energy. Most importantly, I would be elated if the Caribbean taps into our natural resources in a conscious and sustainable manner.
I believe in us. I believe that as a region we all can be 100% renewable. It's possible. Costa Rica is doing it. Why can't we? Again, I'm very grateful for this opportunity to learn about my country and region's renewable energy resistance, hinderances and penetration.
TOPICS:
SHARE: