Caribbean Energy Data Collection Internship Call
Monday 9 May 2022, 12:00 AM - Tuesday 31 May 2022, 11:59 PM
TBD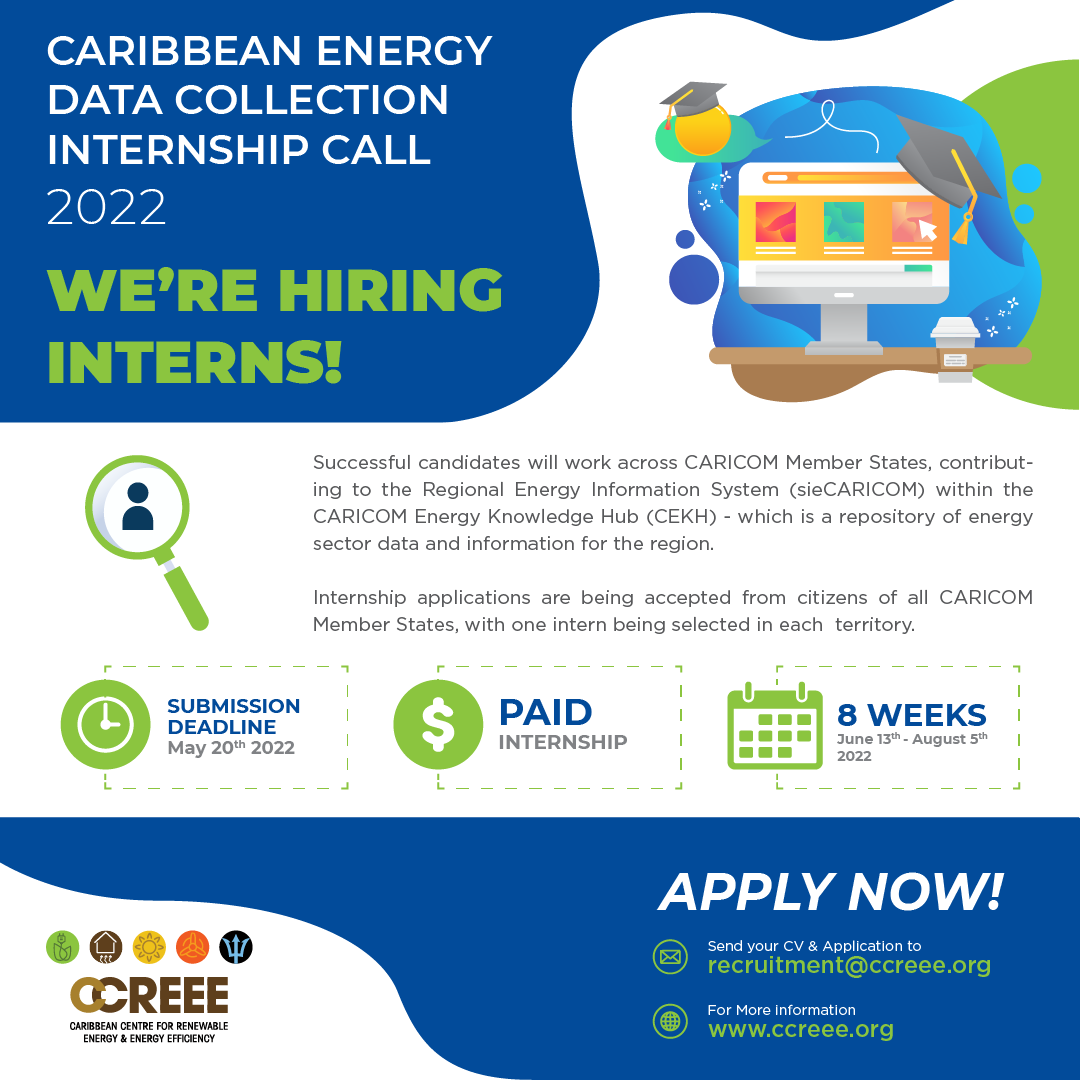 The Caribbean Energy Data Collection Internship Call has been extended in the following countries:
Belize
The Bahamas
Dominica
Grenada
Montserrat
St Kitts and Nevis
St Vincent and the Grenadines
Suriname
Applicants in these 8 countries now have until May 31, 2022 to submit.
Additional applications from non-specified countries will not be considered.
Caribbean Energy Data Collection Internships 2022
The CCREEE is looking for motivated interns in each of the CARICOM territories to work in close collaboration with regional and national institutions to survey and collect energy-related data for Caribbean territories that will be used to update the Energy Report Cards (ERCs) for each territory. This is the fourth year of the ERC data collection.
The interns will be based in their country of residence and, where possible, will work directly within the institution responsible for energy. The internship will provide students and/or young professionals with a unique opportunity to work with the energy sector institutions and stakeholders in their countries, gain practical experience in the energy sector and contribute to the knowledge management functions of the Regional Energy Information System (sieCARCIOM) within the CARICOM Energy Knowledge Hub (CEKH).
The Energy Report Cards will also offer important support to the CCREEE work programme, including support to Member States' energy planning and the development of sustainable energy projects.
SCOPE OF WORK
The CCREEE in collaboration with the respective institutions across the region will collect the specified data and information that will be used to update and populate the ERCs which will be made accessible through the CARICOM Energy Knowledge Hub (CEKH). The hub may be accessed by registering at ccreee.org/cekh.
The countries we aim to engage are: Antigua and Barbuda; The Bahamas; Barbados; Belize; Dominica; Grenada; Guyana; Haiti; Jamaica; Montserrat; St. Kitts and Nevis; St. Lucia; St. Vincent and the Grenadines; Suriname; Trinidad and Tobago.
DESIRED PROFILE
Bachelor's degree or on course for completion of one by December 2023.
Interest in the energy sector and willingness to learn about the socio-economic, technical and environmental aspects of the energy landscape; studies in sustainable energy, environmental sciences or related fields are an asset but not a
National or resident of one of the relevant
Proficiency in English.
INTERNSHIP TIMEFRAME
The internship will run for a period of eight (8) weeks from June 13th to August 5th 2022
APPLICATION
The intern applicant should send their application (motivation letter and CV) on or before May 20th, 2022 to recruitment@ccreee.org.
SHARE: