PPF Public Sector Launch
Tuesday 4 May 2021, 10:00 AM - 12:00 PM
TBD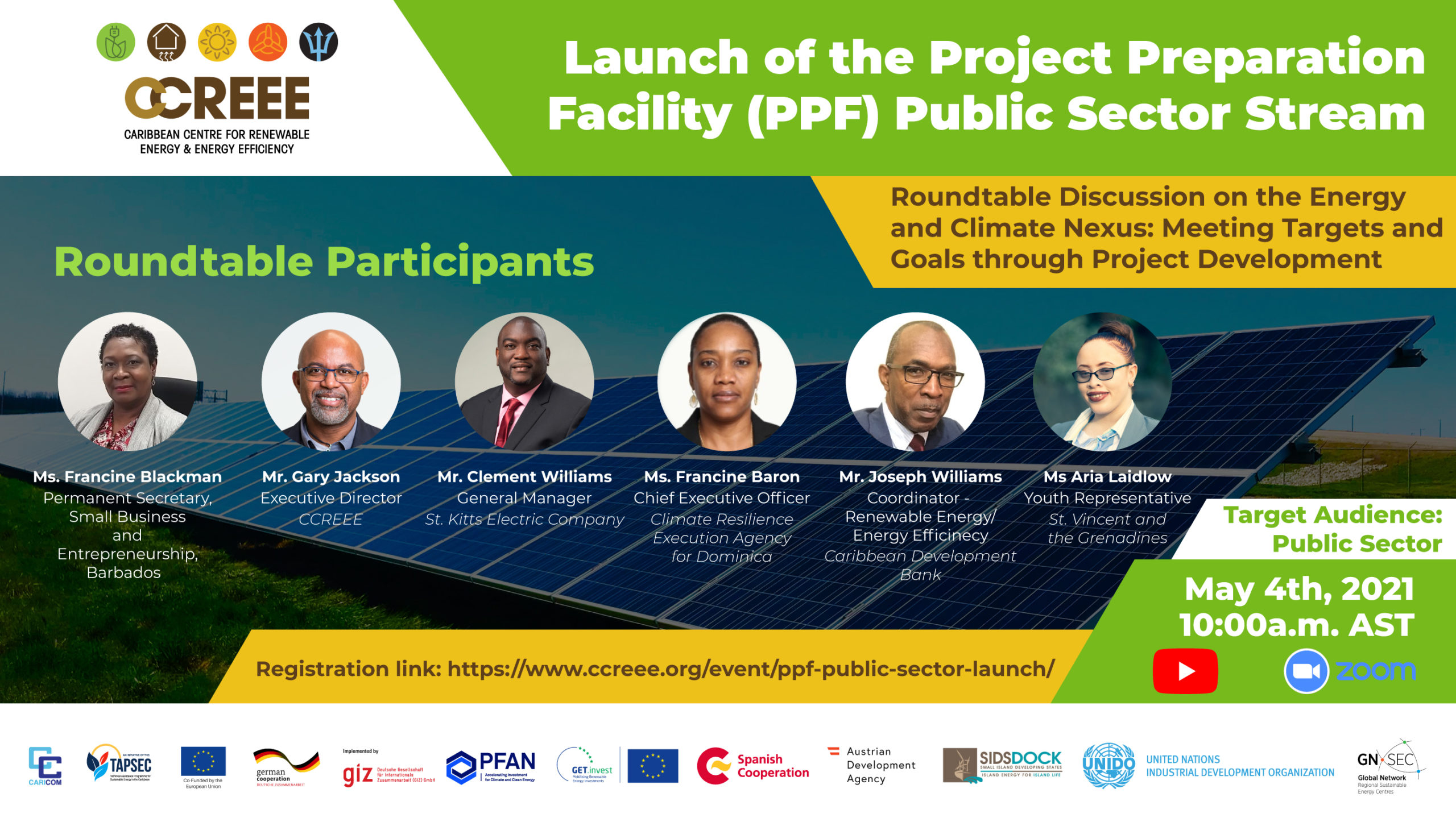 The CCREEE will launch the public sector stream of its Project Preparation Facility (PPF) on May 4th, 2021.  In November 2020, the Centre launched the private sector stream of the Facility and to date has been engaging with private sector project proponents.  
The CCREEE PPF aims to address the region's main barriers to sustainable energy uptake, and bridges the gap between uncertain projects and practical investments through the provision of technical assistance, advisory support, and investor-developer matchmaking.  
The public sector stream of the Facility will operate on the guiding principle that energy is an essential part of climate governance. Therefore, the services offered will advance public sector energy efficiency (EE) and renewable energy (RE) projects, thus making them better able to attract sources of financing including climate financing, towards swifter adoption. The end goal is to assist Caribbean territories in accelerating the energy revolution to meet goals set out in the Sustainable Development Goals (SDGs) endorsed by the United Nations and Nationally Determined Contributions (NDCs) in line with the Paris Agreement. Moreover, the CARICOM region has achieved an RE penetration of 15% installed capacity, a significant deviation from our regional target of 47% by the year 2027. Successful project development and implementation is therefore key to fast tracking the regional energy transition.  
In keeping with the region's continued response to the corona virus threat, the launch will take the form of a virtual high–level round table discussion, to include high level representatives in a discussion which connects energy, climate change and finance. This high-level forum is planned for May 4th from 10 am to 11:30 am with live media streaming.  
Join us for this exciting roundtable event, under the theme: The Energy and Climate Nexus: Meeting Targets and Goals through Project Development
TOPICS:
SHARE: