Public Sector Information Session
Wednesday 19 May 2021, 10:00 AM - 12:00 PM
TBD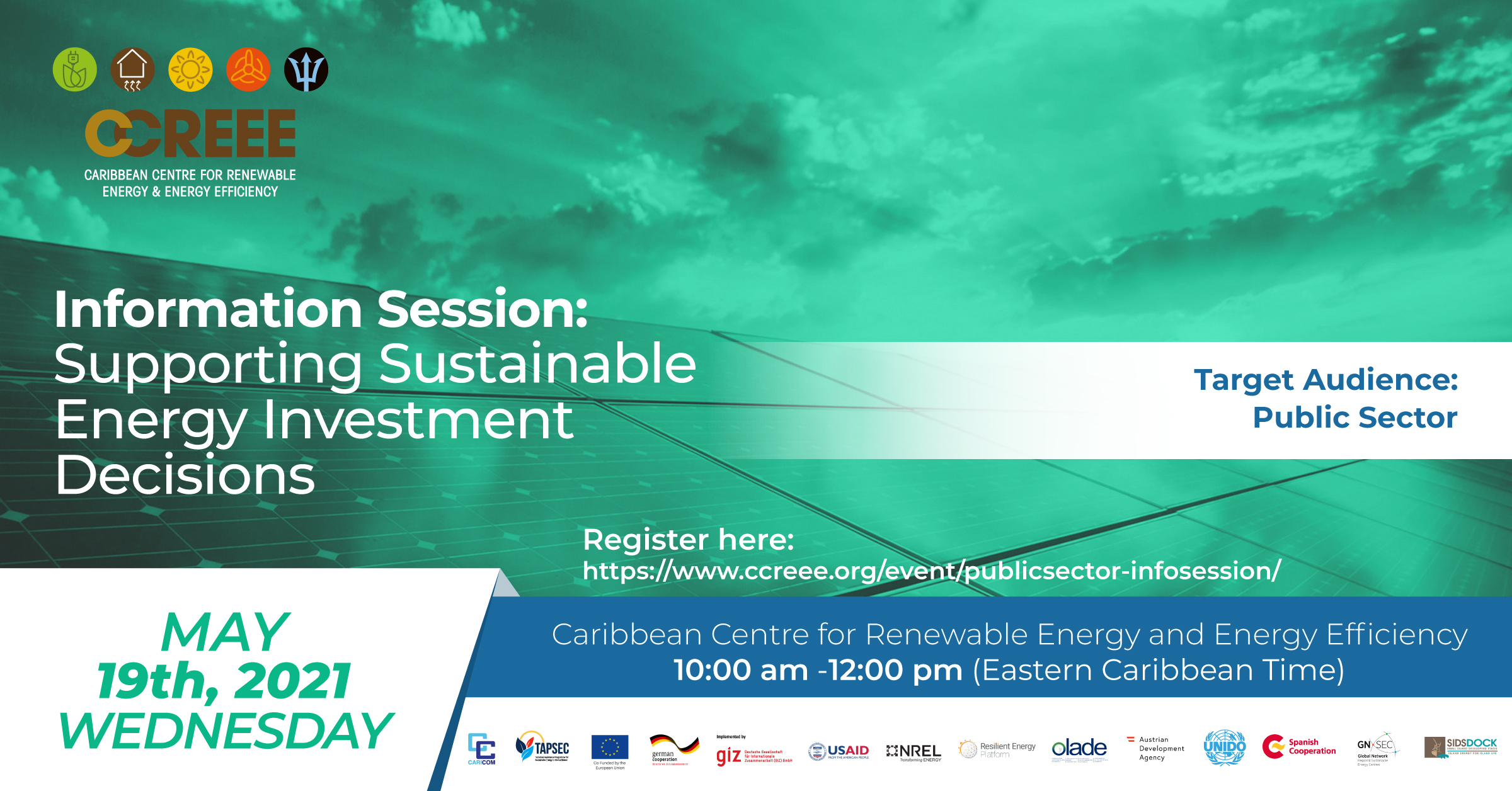 The Caribbean Centre for Renewable Energy and Energy Efficiency (CCREEE) is pleased to invite you to our Information Session on Supporting Sustainable Energy Investment Decisions. 
Event Details
The information session will be held on May 19th, 2021 from 10:00-12:00 p.m. AST via Zoom. Targeted towards the public sector, the session will feature two mechanisms within the CCREEE that support sustainable energy investment: the Project Preparation Facility's (PPF) public sector stream and the CARICOM Energy Knowledge Hub's (CEKH) Energy Report Cards (ERC).  
About 
t
he 
Session
CCREEE PPF 
The PPF aims to support the development of bankable sustainable energy projects. The facility offers technical assistance, advisory services, and financial matchmaking to both the private and public sector. The facility commenced its private sector stream at its launch in November of 2020 while the public sector stream was recently launched on May 4th, 2021. 
This information session will provide pertinent information on the public sector stream via an overview of the facility's services, benefits, and application process. 
CEKH and ERCs 
The CEKH was launched on April 29th, 2021. The hub seeks to be the key modality through which energy knowledge sharing and learning take place in the region. A significant knowledge product within the CEKH is the Energy Report Cards (ERCs) published annually by the CCREEE to provide a snapshot of the energy landscape in each member state.  
Given the ERC's role in stating the regional investment case, the information session will highlight mechanisms to improve energy data collection and information processes.  
How to Join the Session
We welcome participation from relevant representatives within your institution. Kindly register in advance using the link below to access meeting details. 
Register Here 
You can learn more about the PPF and the CEKH by visiting www.ccreee.org/ppf and https://cekh.ccreee.org/ respectively.  
We look forward to your participation. 
TOPICS:
SHARE: