IRRP Capacity Building Session: Wind Resource Assessment
Tuesday 16 Feb 2021, 10:00 AM - 1:00 PM
TBD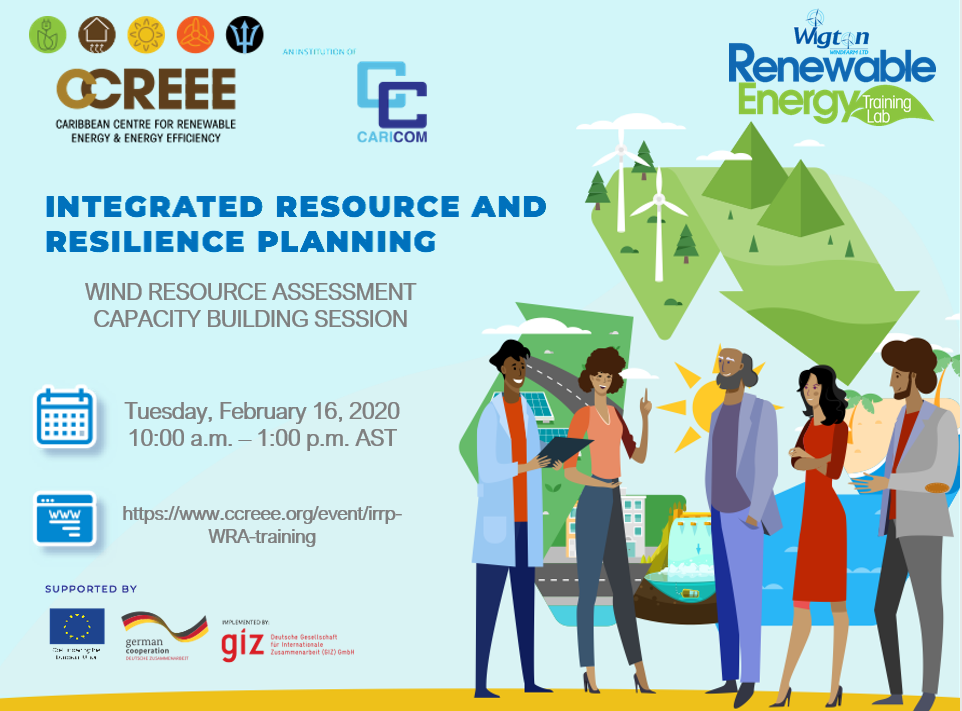 Wind energy is one of the more technologically mature forms of renewable energy that Caribbean stakeholders are seeking to deploy as the region transitions to sustainable energy. However, wind energy is almost entirely dependent on location, and the output of a wind farm is highly sensitive to the nature of the resource. Project developers and energy planners need to carefully consider technology and siting, and must conduct careful resource assessments before building wind energy generation assets. How are wind energy resources assessed, and what critical factors should project developers and planners consider? What effects will climate change have on wind project development?
The Caribbean Centre for Renewable Energy and Energy Efficiency (CCREEE) invites you to attend a capacity building session on Wind Resource Assessment, to address these questions and more. The session will be held virtually on Tuesday February 16, 2021 from 1000-1300 AST (UTC-4). While this will be an introductory presentation, it run for a few hours due to the breadth of material being covered. The session will cover the following modules:
Introduction to the Wind Energy Resource
Introduction to Wind Resource Assessments
Introduction to Feasibility and Climatic Impact Considerations
This session will be conducted with our partners,  Wigton Wind Farm Jamaica Limited – the operators of the largest wind energy facility in the English speaking Caribbean,  a leading private sector entity in renewable energy project development, and one of CCREEE's Thematic Hubs.
What: IRRP Capacity Building Session: Wind Resource Assessment
When: 2021-02-16, 1000-1300 AST
Intended Audience: Energy planning professionals (at utilities, regulators or energy agencies), project developers
About IRRPs
Within the CCREEE's climate resilience strategic programme, the Centre is undertaking the development of Integrated Resource and Resilience Plans (IRRPs) for several CARICOM Member States. These IRRPs are facilitated by kind financial support from the German Federal Ministry of Economic Cooperation and Development (BMZ), the European Union (EU) and technical support from the German Corporation for International Cooperation (GIZ), through the Technical Assistance Programme for Sustainable Energy in the Caribbean (TAPSEC).
TOPICS:
SHARE: