Geothermal Webinar: Providing Opportunities Beyond Electricity
Tuesday 25 Jan 2022, 2:00 PM - 4:30 PM
TBD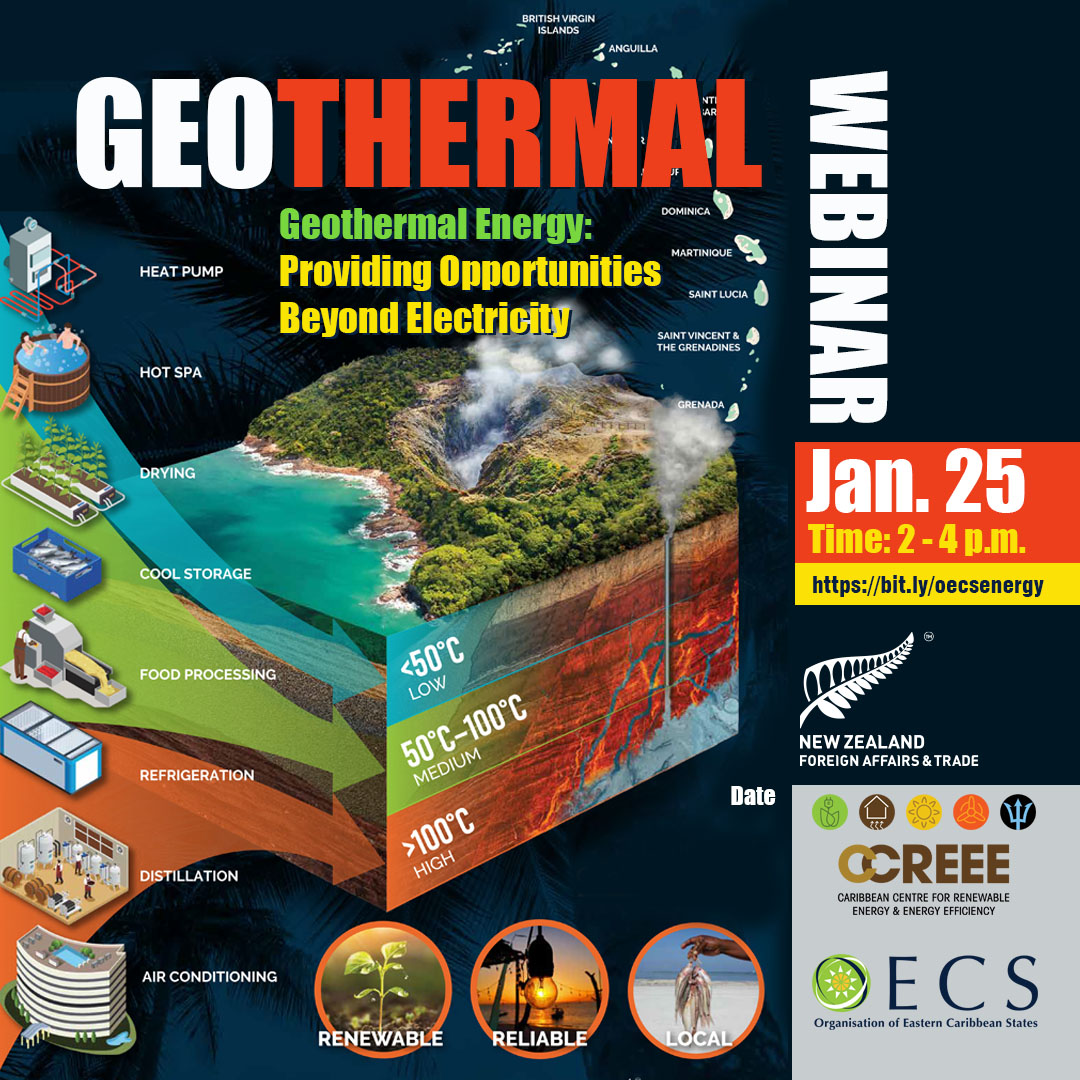 The Caribbean region is seeking to strengthen and expand its productive sectors as we move to recover from the impacts of recent global events such as the COVID-19 pandemic. Businesses are not only looking to reduce operating costs but are looking to reinvent the economy with opportunities for new, efficient products and services for increased revenues. Geothermal resources could help drive economic growth in the Eastern Caribbean. Whilst efforts have focused on the generation of cheaper, reliable electricity from our geothermal sources, it may be even more beneficial to explore the use of geothermal resources to support businesses who have a demand for heating and cooling.
Across the world, geothermal resources remain relatively untapped but in recent years significant progress in geothermal development for both electricity and direct uses have helped transform the economies in developing countries in Africa and Latin America. Similar success in the Caribbean would make our economies more competitive and propel us to improved standards of living. In light of this, a recent study of three Caribbean islands, Dominica, Montserrat and Nevis, examined opportunities in geothermal development beyond electricity generation for the region.
Can geothermal energy support new industries, lower the cost of production, and open new export markets? What new products and jobs can the tourism, manufacturing, and agriculture sectors directly benefit from the development of the region's geothermal resources? Can new geothermal-based opportunities for food and beverage manufacture, refrigeration, and building cooling, spas, and hot pools accelerate our geothermal development projects and support optimal use? How can local businesses and entrepreneurs take advantage of these new opportunities? Join us as we examine potential direct uses of geothermal applications for the region and identify immediate next steps to realise these opportunities for a stronger economy for all our citizens.
TOPICS:
SHARE: