Unleashing the Power of Passion: A Lover of Climate Change, Renewable Energy and Sustainability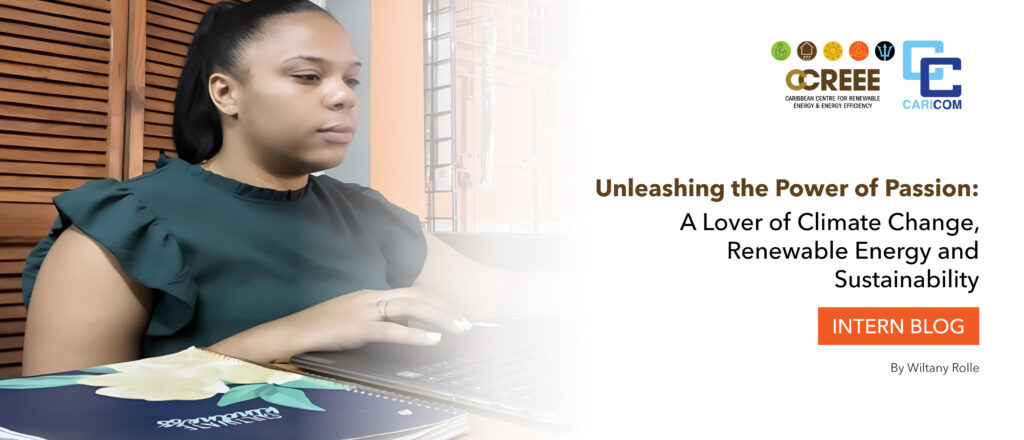 Hey there, folks! Wiltany Rolle here, a geoscientist with a burning passion for climate change, sustainability and renewable energy. I'm thrilled to share a little glimpse into my internship journey with you.
I completed my bachelor's degree in geoscience and am currently on the exciting path of completing my graduate degree in geosciences. 
During my undergrad years, renewable energy, particularly geothermal plants in the beautiful Caribbean, fascinated me. I couldn't help but research this field and write papers. The Caribbean region holds immense potential for renewable energy, especially Dominica, the island where I live.
Fortunately, I secured an internship with the Caribbean Centre of Renewable Energy and Energy Efficiency, which tasked me with producing an energy report on Dominica. This opportunity allowed me to immerse myself fully in the energy sector in my homeland, while contributing to the knowledge management functions of the Regional Energy Information System within the CARICOM Energy Knowledge Hub.
In addition to learning a ton, I also developed helpful connections with industry insiders. But let's talk about the less enjoyable topics too. One of the main hurdles I faced was the slow responses and, at times, no responses at all from public and private stakeholders. It was disheartening to witness the lack of urgency or interest in sharing information on renewable energy initiatives, especially when the need for sustainable solutions is becoming increasingly critical.
Moreover, I noticed a significant gap in the availability of certain data that, in my view, should be within the public's reach. Transparency and access to information play a vital role in fostering collaboration and empowering individuals and communities to make informed decisions regarding their energy consumption.
Despite these challenges, I remained determined and focused on my passion. Every obstacle is an opportunity for growth and improvement. Through my experiences, I have become more motivated than ever to close these gaps and contribute to a brighter future for my country and our planet.
TOPICS:
SHARE: