Capacity Development Session: Climate Vulnerability Modelling
Tuesday 9 Mar 2021, 10:00 AM - 1:00 PM
TBD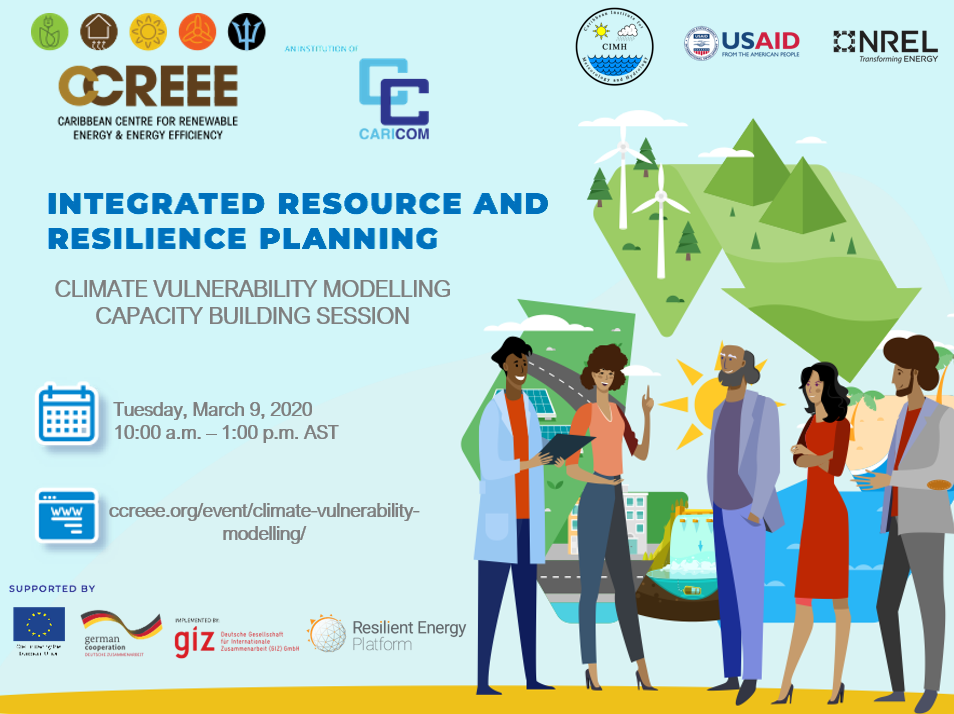 The Caribbean Centre for Renewable Energy and Energy Efficiency (CCREEE) invites colleagues from utilities, regulatory bodies, regional universities (lecturers and graduate students) and development partners to join us for a capacity building session focused on climate vulnerability modelling.
Date: Tuesday March 9, 2021
Prerequisites: BSc in Engineering/Relevant Discipline, or Experience in the Energy Industry
Course Learning Outcomes: Understanding of the various climate related vulnerabilities which affect the energy industry
Course Length: 3 hours (10:00 a.m. – 1:00 p.m. AST)
Course Content: Climate vulnerability and the associated risks to the energy system
About IRRPs
Within the CCREEE's climate resilience strategic programme, the Centre is undertaking the development of Integrated Resource and Resilience Plans (IRRPs) for several CARICOM Member States. These IRRPs are facilitated by kind financial support from the German Federal Ministry of Economic Cooperation and Development (BMZ), the European Union (EU) and technical support from the German Corporation for International Cooperation (GIZ), through the Technical Assistance Programme for Sustainable Energy in the Caribbean (TAPSEC).
Support for this capacity development session is provided through kind contributions from the US National Renewable Energy Lab (NREL) via the United States Agency for International Development (USAID). Training support is provided by the Caribbean Institute for Meteorology and Hydrology (CIMH).
TOPICS:
SHARE: